Let's do the magic!
A recent job lasted several (too many!) weeks in India, is the perfect excuse to talk about hand baggage. As every photographer ever been on an airplane will know very well, the big problem resides in the many limitations imposed by the airlines, both regarding dimensions and also regarding the weight.
The maximum size allowance is (for international flights) more or less the same for all the airlines: 56x45x25 cm (flying with low cost airlines or on domestic flights limitations might be more severe, and reach 48x36x20cm). Regarding the weight limitation, it can range from 12kg (not very often) going trough the more common 8kg down to the (unreasonable) 5kg for domestic and low cost flights.
The assignment in India was a real challenge in terms of "miniaturization" of the hand baggage. Infact, other than my standard photo gear, I was asked to make videos, so I decided to bring an extra DSLR just for this purpose. On top of that, of course, I needed the gear for audio recording (who wants to record audio with the camera internal microphone?!?)
To avoid any sort of problem and countless discussions at every check in (I had to take several domestic flights and trains during my trip) I opted for a great backpack from ThinkThank, the Airport Antidote (V1, now replaced by V2 that IMHO is not as capable as the first version) which I luckily bought right before in was replaced.
The bag is slightly bigger than a Mac Book Air 11″, so the bag's size is quite minimal: 42x31x18cm. It means it can fit almost all airplanes overhead, even in domestic flights… this bag allow to take advantage of every cubic inch better than any other bag I ever had. The video below shows how, with a bit of willingness and several hours of Tetris training you can really fit a lot of gear in this discrete bag. Obviously you can't put every piece in a separate compartment, some stuff has to be piled, but our goal here is to save space!
Something important to mention is weight: you can optimize the space, but you can't really do the magic with the weight… In my case, the backpack was 15 kilos, quite heavier than the allowance of 8 kilos.. Just to give you an idea, my checked baggage, with clothes for 8 weeks (and a tripod) was around the same weight, just a few kilos more. A little help might be obtained by showing at the check-in desk quite casual, laid-back, with the backpack on one shoulder, pretending it's not heavy. Than you just need the hope that the operator believe in your acting skills…
Also, as mentioned in other discussions, I always travel with 2 bags, one for the travel itself and one to use once on location. In this case the second bag is a brownish Dome from the "Rugged" series: intact I discovered that somehow in India black bags are quite unusual, so a brownish one is a much better options and goes way more unnoticed in India's streets.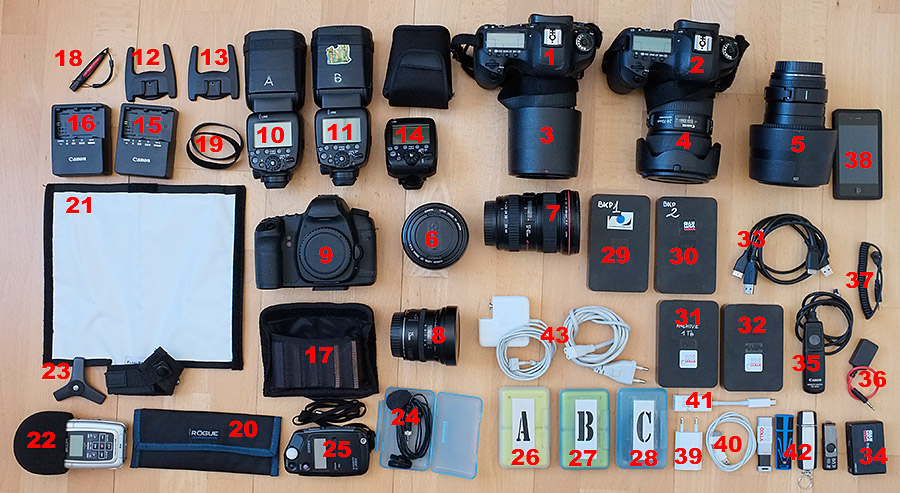 And this is the gear list (I swear, it all goes inside the backpack…)
1- Canon Eos 5D Mk3
2- Canon Eos 5D Mk3
3- Canon EF 100 mm Macro f2.8 L IS
4- Canon EF 24/70 mm f2.8 L II
5- Canon EF 200 mm f 2.8 L II
6- Canon EF 50mm f1.4
7- Canon EF 17/40 mm f 4 L
8- Canon EF 15 mm f 2.8
9- Canon Eos 5D Mk2
10- Canon Speedlite EX 600 RT
11- Canon Speedlite EX 600 RT (special limited edition, with my son's sticker)
12- Flash foot
13- Flash foot
14- Canon ST-E3 transmitter
15- battery charger
16- battery charger
17- 4 extra batteries
18- LensPen clea­ner
19-Rogue rubber bands
20- Rogue kit flash gelatin
21- Rogue Flash Bender
22- Zoom H2 Audio Recorder
23- Zoom H2 mini stand
24- Mic Lavalier Sennheiser ME-4
25- Sekonic L308S light meter
26- Memory Card holder with 4 x CF Sandisk Extreme Pro 8GB (95Mb/sec)
27- Memory Card holder with 6 x SD Sandisk Extreme Pro 16GB (95Mb/sec)
28- Memory Card holder recycled as a box for 8 AA batteries
29- HD WD 500 Gb USB 2
30- HD WD 500 Gb USB 2
31- HD WD 1Tb USB 3
32- HD WD 1Tb USB 3
33- USB2 and USB 3 cables
34- Memory Card reader Trascendent USB 3
35- Remote Trigger Canon
36- don­gle TriggrerTrap
37- cable TriggrerTrap
38- iPhone 4S
39- iPhone charger
40- iPhone cable
41- Thunderbolt/Ethernet adapter
42- various USB 3 keys
43- MacBookAir 11″ charger
44- MacBookAir 11″ 8Gb Ram Intel i7 2Ghz (not in the picture)